What Happens to Your Body after a Car Accident?
A car accident puts major pressure on your body. Even low-impact and low-speed crashes can cause injuries that are debilitating and painful. If you're involved in a car accident, you should always get yourself checked over as soon as possible. Pain from a car accident can manifest immediately or it can take a few days for the symptoms to appear. Forces on the neck during a car accident can cause severe discomfort and is something that should be dealt with by a professional. A rear-end crash at low speeds still has the potential to hurt your body and cause issues that render you immobile for a prolonged period of time.
Signs of Neck Injury
There are several signs of neck injury of which you should be aware. A dull ache is the most common back injury from a car accident. A sore and stiff neck is the main symptom of neck injury and is often the first sign we notice. Having a decreased range of motion is a sign of inflammation and is another sign of neck injury. Headaches are another common sign of neck injury and it's not uncommon for them to spread from the neck into the back, shoulders, and arms.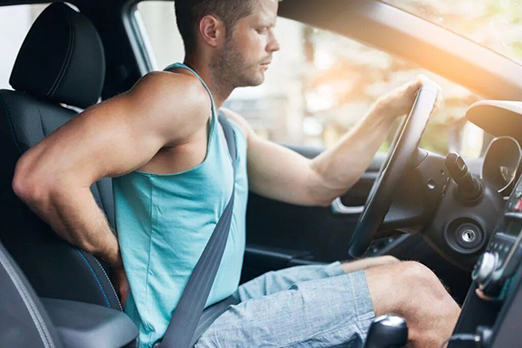 Common Rear-End Accident Injuries and Conditions
Some of the most common auto accident injuries and conditions are:
Stomach and back pain
Severe back pain
Upper back pain
Head injuries
Spinal cord injuries
If you fear you have any of these injuries, contact your local chiropractic experts today.
What is a Sprain?
Sprains happen when you twist or overstretch a muscle. This is more common as a sports injury but can still happen from auto accidents. Getting lots of rest is a key aspect of recovering from a sprain. If your injury hasn't recovered after rest, it's likely to be more severe than a simple sprain. Sprains can often be a symptom of something more serious and shouldn't be ignored. If you're concerned that the symptoms of your sprain aren't easing up even though you've been resting, you should consider seeing a professional as soon as possible.
Experienced Chiropractors Know What Happens to Your Body After a Car Accident and Provides Safe & Effective Rehabilitation
The most important thing you can do after a car accident for your body is to visit an accident injury doctor who can help not only relieve your pain, but improve the overall injury. Visiting an auto accident clinic in Miami is essential, as these health professionals can detect injuries from an auto accident that you may be unable to find yourself.
An experienced chiropractor is what's best for your body after a car accident and is something you should do even if you feel fine. This is because the symptoms can take a few days to surface.